Chief Fire Chaplain of Maine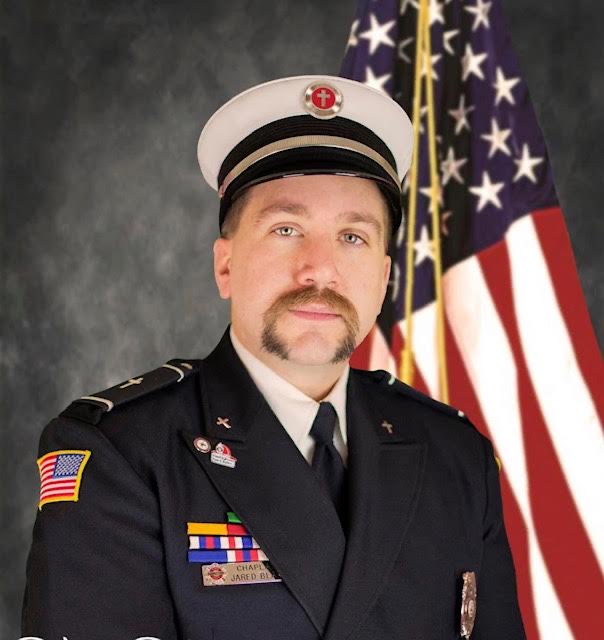 Jared Blake
Chief Fire Chaplain, State of Maine
Director to the New England Region of FFC
Chaplain Sabattus Fire Department
VP Androscoggin County MSFFF
FF-II, A-EMT, FI-I, BFO
Jared Blake been his service career on 10-14-2000 as a Jr Firefighter in the town of Pownal, Maine serving under his father Chief Lester Blake (retired). Throughout his career in the fire service Jared has held multiple positions on local, county and state levels including Fire Lieutenant, EMS Captain and Assistant EMS Chief. Currently he is serving with the town of Lisbon Police Department as a Communications Officer and is a Firefighter/AEMT for the Lisbon Fire Department. Also he serves as a Firefighter/AEMT & Chaplain for the Sabattus Fire Department and Firefighter/AEMT for North Yarmouth Fire Rescue.
Jared married his lovely wife Kelsey in 2015 and has two young children, a daughter and son. The Blake's attend the Open Door Bible Baptist Church in Lisbon were both Jared and Kelsey have been serving the Lord in different ministries with their Church. Jared enjoys a number of outdoor activities including camping, hiking and 4 wheeling. He also enjoys music, singing in the church choir, playing piano and preforming muscially with his wife.
Deputy Fire Chaplains of Maine:
Kevin Jacques
Deputy Fire Chaplains (Southern District), State of Maine
Kevin Jacques started his career as a fire chaplain in 1997 when he began his masters in pastoral counseling at Loyola University in New Orleans. 'I am blessed to be working so closely with such great men and women and the community at large." Kevin serves as Chaplain with the Biddeford and Saco Fire Departments.
Russell "Spike" Brimmer
Deputy Fire Chaplain (Northern District), State of Maine
Russell "Spike" Brimmer has been active in pastoral and spiritual care matters since his teenage years (when JFK was POTUS!), having been a participant and speaker in ecumenical religious events during high school. An outgrowth of Spike's early career as a reporter and broadcast producer was his creation of large-group presentations on biblical topics for both youth groups and adults. He later became active in hospital chaplaincy as a volunteer member of the spiritual care team at Maine Medical Center. Since his move to the Bangor area, he has performed similar services at St. Joseph Hospital. "In the hospital, you see it all," he says. "Joy, grief, desolation, birth, death and everything in between." In that setting, Spike interacts with patients, family, visitors and staff. "We all have pastoral needs at some point," he adds, "and the team addresses those needswherever we find them." When Spike and his wife moved to Levant, he was looking for a way to give back to his new community. This led to a later-in-life career in EMS. Eventually, Spike answered a call to put his pastoral background to use as the department's chaplain. Later, he took on the same role in the neighboring town of Carmel. He brings to his chaplaincy a diverse background which also includes service as a funeral attendant and work in the fields of mental health and intellectual difficulties. All of this helps him provide empathic service to the members of his departments and to the community at large.

Regional Chaplains of Maine:
Robert Kirtion
Regional Chaplain (Southern), State of Maine

Ron Parker
Regional Chaplain (Tri-County), State of Maine

Wayne Estabrook
Regional Chaplain (Kennebec Valley), State of Maine
Wayne Estabrook joined the Bowdoinham Fire Department in 2002 becoming a firefighter. After 2 years he was asked to drive & operate the fire trucks. After becoming a driver & operator for all the departments fire apparatus, the Deputy Chief knowing that Wayne was a man of faith who attended Church and was praying for him personally, appointed Wayne to be the departments Chaplain. After much prayer, Wayne felt the Lord calling him to the Chaplain position. "As a Chaplain I feel that I have helped a lot of firefighters and a few ems people. I need to be steadfast in what I believe and talk about, then I hope that by the grace of God that others will start to follow Christ as our Lord and savior."